The Netherlands Carillon School has a large number of facilities for study, teaching and research, spread over various buildings.
Main Building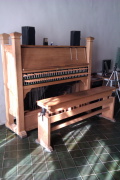 The Netherlands Carillon School is housed in a seventeenth-century building, The Crowned Flourbag, at the Grote Spui in the centre of Amersfoort. Besides the office, there are 4 large teaching and practice rooms, the library and a coffee room.
A great number of facilities is available:
3 electronic practice-keyboards with computer and sample software
2 mechanical practice-keyboards
practice-keyboard with Dutch pedal (mechanical)
2 pianos
collection of campanological objects
audio-recording and  -playing apparatus
video-recording and  -playing apparatus and projection apparatus
re-pinning apparatus (both mechanical and digital)
tone synthesis apparatus
computers with specific software for:


music notation
pinning
tone analysis
tone synthesis

printers and scanners
apparatus for copying and binding
Tower of Our Lady
In the Tower of Our Lady in Amersfoort, only 350 metres from the Netherlands Carillon School, there are 100 bells. Besides 7 chiming bells, there are 2 carillons that can be played, a situation unique in the world. The historic Hemony Carillon (1659/1664) has 35 bells and was reconstructed to its 17th century state. In 1997, a new carillon was added, consisting of 58 bells in modern tuning made by Eijsbouts. Together, these two carillons enable the entire carillon repertoire to be played. All performances on these carillons, four a week, are given by students and teachers of the Netherlands Carillon School. Lessons are also regularly given in the Tower of Our Lady.
Belgian Monument
The carillon of the Netherlands Carillon School is in the Belgian Monument, outside the center of Amersfoort. The Belgian Monument was finished in 1918 in thanks for the help given to the many Belgian refugees who came to these parts during the First World War. In 1967, the central tower was heightened to house the carillon of the Netherlands Carillon School. Its situation in a wood, without buildings nearby, means that the carillon can be used from early morning to late at night for lessons and practice. It is now the most played carillon in the world.